Houshang Moradi Kermani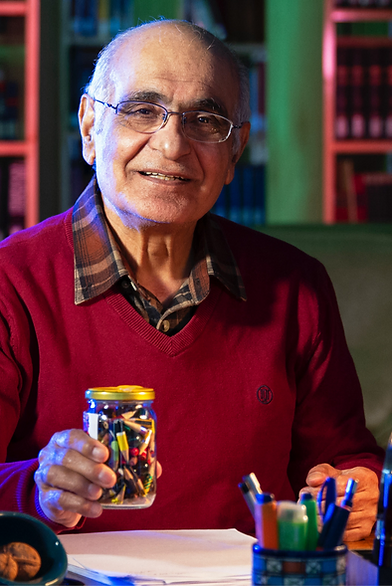 Houshang Moradi Kermani
Houshang Moradi Kermani, story writer, screenwriter, and playwright, talks about story writing training on his page. Who is an author? The difference between story and narrative, folk literature and its function, imagination and creativity, story structure, what you need to know to write a story, word sitting in the story, beginning and ending of the story, suspensions, tensions, rhythm and brevity in the story, dialogue and monologue, editing cover design and illustration, humor in the story, the influence of cinema and literature on each other and Local stories, and writhing universally are among the topics that Moradi Kermani has taught in this course.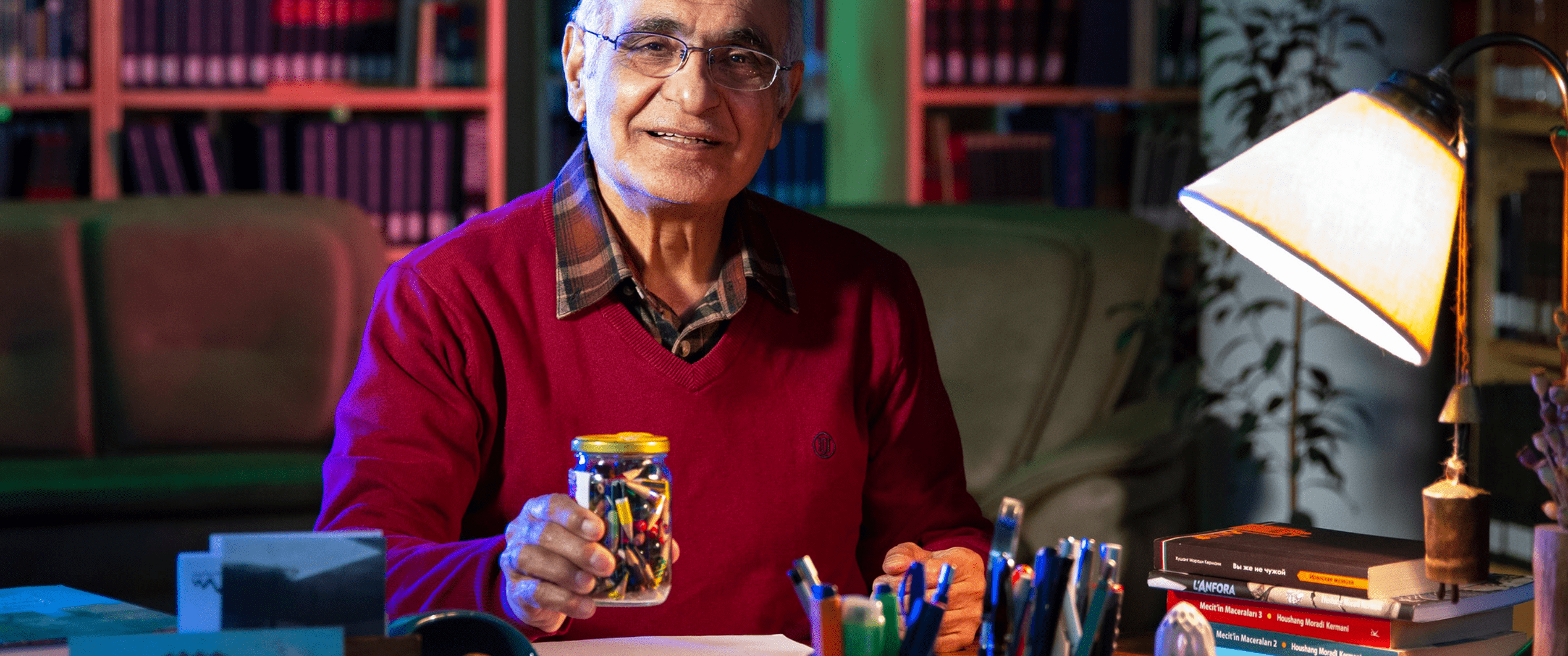 Play Video
Course Content
01۱ Houshang Moradi ‌Kermani biography and introduction of the course
We get to know more about Houshang Moradi Kermani, story writer, screenwriter, and playwright. His stories have been translated into dozens of international languages​​, and his work has made several cinematic adaptations. Moradi Kermani has been nominated for the Hans Christian Andersen World Prize three times and has been awarded the prize by the jury. In addition, he was a nominee for the Astrid Lindgren World Prize, a Cambridge University Certificate of Merit, winner of the Austrian Children and Adolescent Book of the Year Award, and dozens of other prestigious awards both inside and outside of Iran. In 'Safheye No', we will be taught a story writing lesson by him.
02۲ What made me write
In this lesson, Houshang Moradi Kermani talks about his path to becoming a credible writer for the "Safheye No" audience. He believes that he was not born to be president, build towers, etc. but to open the cotton balls in his head and weave a story. The impact of grandparents' stories, taking advantage of the village nature, taking essay writing seriously, and writing for the radio and in the press are some of the topics covered in this section.
03۳ Who is an author?
Is writing teachable? What is the difference between a technician and an artist and the role of talent in writing? What could be learned in writing? How could the events and memories in our lives become stories? This lesson answers these questions.
04۴ The difference between a narrative and a story
The course teacher explains the differences between the story and the narrative on this page and explains why he considers himself more of a story writer. He also explains why we need to know different styles and the fit of the form with the content in this lesson.
05۵ Folk Literature
According to Moradi Kermani, a nation's desires, beliefs, customs, and fears are hidden behind its popular literature. Much of popular literature is rooted in oral cultures, and he shows how to find them in every corner and cast them in the form of a story. He describes those who created folk literature as using the oral culture of different businesses in the story, the fusion of prose and poetry, and how folk literature is kept alive in story writing.
06۶ Imagination and Creativity
Stories are rooted part in reality and part in imagination. Imagination and creativity are two essential elements of writing. On this page, we learn the difference between Houshang I and Houshang II, the practice of seeing correctly, preserving childhood imagination, and presenting animals in realistic stories from someone who still kept his inner child alive and kicking.
07۷ Story Building 1 – What you need to know to write a story
In this lesson, we learn: where does the author's work begin? How is the idea or plot of the story formed? Is any idea a bad idea? The importance of field research, creating a character, story writing, time and place, sociology and anthropology of the story's geography, with a case study of two stories 'Nazbalesh' and 'Children of the Carpet Factory'.
08۸ Story Building: 2 – The word placement in the story
Words are the author's tools and the building blocks of the story. On this page, our story writing teacher explains word poverty, word choice, avoiding repetition of words, having different sounds in the text, and how to avoid translation to impact text. He talks about his tricks to prevent words from being wasted.
09۹ Story Building 3 – From Beginning to End of the Story
How do we start the story? How to finish the story? In this part, Moradi Kermani says why the story's beginning is important and how to weave the suspension and tension in the fabric of the story? In this section, we will learn the basic concepts of storytelling such as rhythm, brevity, dialogue, monologue, story ending, and story title by reviewing and reading his stories.
10۱۰ When is your story ready to be published?
After writing the story, your work as a writer is not over, and there are things you need to know and apply. In this lesson, Houshang Moradi Kermani talks about consulting with trusted people, editing, cover design and illustration, royalties, and publishing books for those interested in story writing.
11۱۱ Humor in the story
Humor is one of the elements of Moradi-Kermani's stories. The author of 'Majid's Tales' says that he has always tried to mix sadness with humor in his writings. We are acquainted with the tragic subject, the character's humor, and the humor of the situation on this page.
12۱۲ The Impact of Cinema and Literature on One Another
So far, dozens of successful film adaptations have been made of the work of Houshang Moradi-Kermani, and he considers this to be the result of visual writing. What is an adaptation? What effects does the cinema and literature have on one another? How committed is the film to the story? How could a story writer and a director interact better?
13۱۳ The Impact of the Audience on the Writer's Work
Moradi Kermani says he has never written for a specific age group or audience and considers his stories for all ages. In this lesson, in addition to the features of children's literature, we will be acquainted with the audience, how to convey the message to the audience, the rewards and their impact on the author's work.
14۱۴ Local stories, universal author
Houshang Moradi Kermani's books have been translated and praised in many languages. How could one write for his people but become universal? How could you cover cliché subjects using a new form? What is the role of translator and publisher in writers' worldwide recognition? What is it like to enter other cultures? The instructor of this course will answer these questions in this course.
15۱۵ Becoming a writer and a secret to establishing prominence
Moradi Kermani talks about the mystery of the work's permanence. What factors make the work last and pass through time and space? Where do we begin to start story writing? What is the author's social mission? He advises us to prune the extra branches of our lives so that we can reach our goal.
16۱۶ Personal etiquette
Are there optimum times and conditions for writing? The course instructor explained how he could write whilst having a nine-to-five job. He talks about his efforts, disappointments, and motivations for story writing.
17۱۷ The last page, the last words
Houshang Moradi Kermani summarizes this training course on the last page. As a final word, he mentions his usual formula for success and has tips for those interested in story writing.