Nasrollah Kasraian
Nasrollah Kasraian
Nasrollah Kasraian shares his personal experience in the area as a photopgrapher especially in the Documentary Photography field. He has been granted fame as the Father of ethno-photography. He discusses the impact of the photographer's vision on his/her work, ethnological photography and anthropology, a photographer's independence and the ethics of photography.
​
Freelancing, facing career challenges and gaining trust with the subject, characteristics of quality photography, correct timing and perspective, photography with basic equipment and tips on travelling as a photographer are only a few more of the topics covered in his sessions.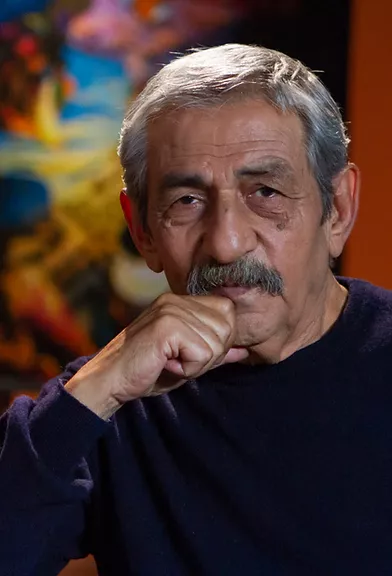 Course Content
01۱ Introduction to Nasrollah Kasraian and Course Overview
In this first page, we become acquainted with Nasrollah Kasraian, an Iranian photographer, translator, and the father of documentary photography in Iran. Throughout his fifty-year career, he has published more than thirty photography books, including titles such as "Our Land Iran," "Turkmens of Iran," "Kurds of Iran," "Nomads of Iran," "Damavand," "Persepolis," "Iran's Deserts," and many others. On this page, he shares his experiences and perspective on documentary photography, particularly capturing images of people.
02۲ Photographic Life
Kasraian narrates the journey that led him to become a photographer. We hear about his accidental encounter with photography, his studies during his time in prison, his collaboration with Ziba Arshi, and other events that influenced his choice of photography as a way of life.
03۳ The Photographer's Worldview and Impact on Work
Nasrollah Kasraian believes that what and how a photographer captures and presents a photograph reflects their worldview. He considers his main work as capturing photographs for people and bringing the images into people's homes. On this page, Kasraian discusses photography for the public, different approaches to presenting photographs, his perspective on festivals and awards, selling single-copy photographs, and more.
04۴ Documentary Photography
The instructor of this course shares his view on documentary photography as a historical document on this page. Kasraian believes that certain elements may not be directly related to photography per se, but photography is impossible without awareness of those elements. We explore topics such as how to become familiar with and research a subject, the necessity or lack thereof of descriptive captions for documentary photographs, and defining honesty in documentary photography from his perspective.
05۵ Ethnographic Photography
In this lesson, Nasrollah Kasraian discusses his motivations and methods, along with those of his wife, Ziba Arshi, for photographing different ethnicities in Iran. He states, "I wanted to take mirrors in front of ourselves." Characteristics of ethnographic photographs and the difference between a tourist's perspective and ethnographic photography are among the topics addressed on this page.
06۶ Defining a Project for Photography
Kasraian talks about how to define a personal project for a photographer and shares his experience with self-publishing his first book, "Our Land Iran." In this lesson, the course instructor discusses ordering one's own work by examining his experience photographing Mount Damavand, paying attention to secondary subjects, and maintaining continuity in photography through the analysis of the book "Notes: The Ship." He credits those who have purchased his books for helping him maintain his independence.
07۷ Engaging with the Subject
The importance of the subject and theme, getting closer to people, gaining people's trust, controlling the photography environment, respecting people, establishing relationships, and creating trust with the subject to respect their personal space are all discussed on this page from the perspective of the course instructor.
08۸ Proper Lighting and Angle
Kasraian believes that there is no such thing as good or bad light, but rather light can be suitable or unsuitable for our intended purpose. He considers the recognition of the quality and quantity of light to be his most important skill. In this page, he shares his experiences regarding being in the right time and place for photography and the importance of acquiring this knowledge.
09۹ Taking a Good Photograph
"Taking a good photograph is different from pressing the shutter button," says Nasrollah Kasraian. He shares his criteria for a good and enduring photograph with the course participants. Composition and abstraction are among the other topics discussed on this page.
10۱۰ Photography with Minimal Equipment
Kasraian believes that it is the photographer who takes the photo, not the camera. We hear about choosing the appropriate camera and tools based on photography style and the difference between analog and digital photography in this lesson.
11۱۱ Traveling for Photography
During years of his professional activities, Nasrollah Kasraian has traveled over thirty-five million kilometers to various parts of Iran and the world, capturing the lives of people. On this page, he talks about the facilities and conditions required for traveling for photography, as well as the patience, perseverance, and hard work of a photographer.
12۱۲ The Last Page
Kasraian shares his final words with the audience of the educational course on the last page.